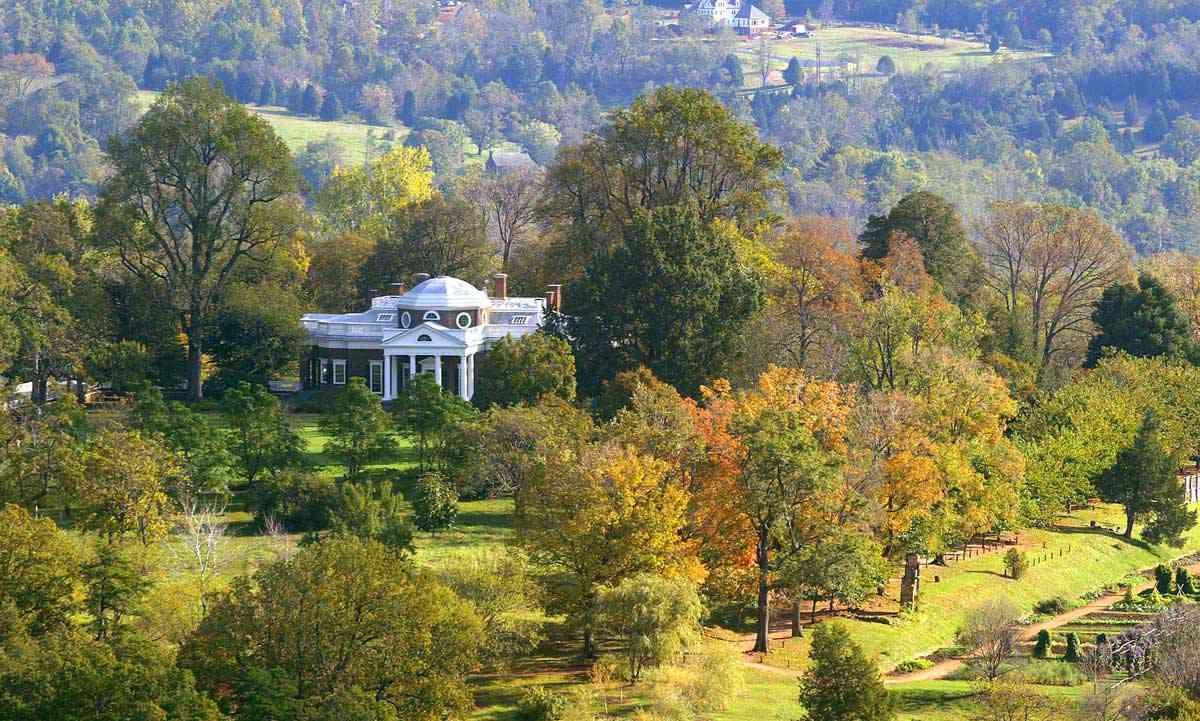 20 Amazing Things to Do in Charlottesville, VA
Nestled in the foothills of the Blue Ridge Mountains, Charlottesville, Virginia, offers a delightful blend of history, culture, and outdoor adventures. Whether you're a history buff, a foodie, or an outdoor enthusiast, this charming city has something for everyone. Get ready to embark on a journey filled with amazing experiences as we explore 20 amazing things to do in Charlottesville VA.
Summary
Explore Charlottesville's unique attractions, from Thomas Jefferson's Monticello to the Historic Downtown Mall and Shenandoah National Park.
Indulge in delicious Virginia cider, craft beer & cocktails, farm-to-table restaurants and interactive learning experiences.
Enjoy outdoor activities like fly fishing or horseback riding through scenic trails while staying in luxurious accommodations.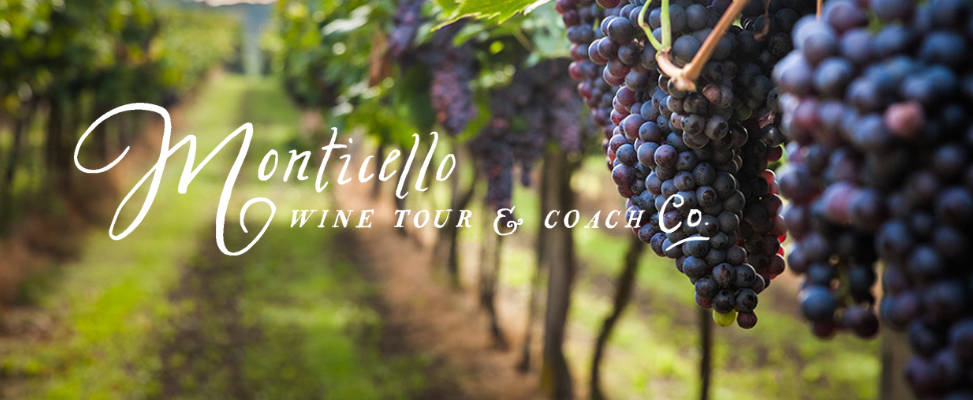 Editors Choice
Charlottesville provides some of the most exquisite and eventful wine tours in the world. This wine tour would make Robert Parker blush one the most influential wine connoisseur of all time. There's plenty of services to accommodate all of your needs, such as private tours and coaches to take you or your family around without the hustle and bustle of public tours. This leisurely tour provides:
Luxury Tours
Wedding Charters
Airport Transportation
For-Hire Services
Modern Fleet
Professional Team
Event Transportation
Corporate Transportation
The Monticello wine tour is a sheer delight, you'll never have to worry about planning because we got you covered! We have knowledgeable and experienced guides that will provide you with the whole wine-making experience from start to finish.
Let's not forget about the Charlottesville culture, which is steeped in American history and offers some of the best and mesmerizing scenic routes on the East Coast. You will have access to a tailored experience such as tasting some of the finest wines, experiencing the aroma of freshly made wine, the delightful depth and complexity it takes to make the wine and experiencing the luscious environment that helps shape and create some of the best wines that come from Virginia.
Having exclusive access isn't only beneficial it's an unforgettable adventure that is catered to those who are searching for a personalized experience and exclusive access all while enjoying comfort and luxury. We invite you to come and experience the fine things Charlottesville has to offer.
Discover Monticello, Thomas Jefferson's Masterpiece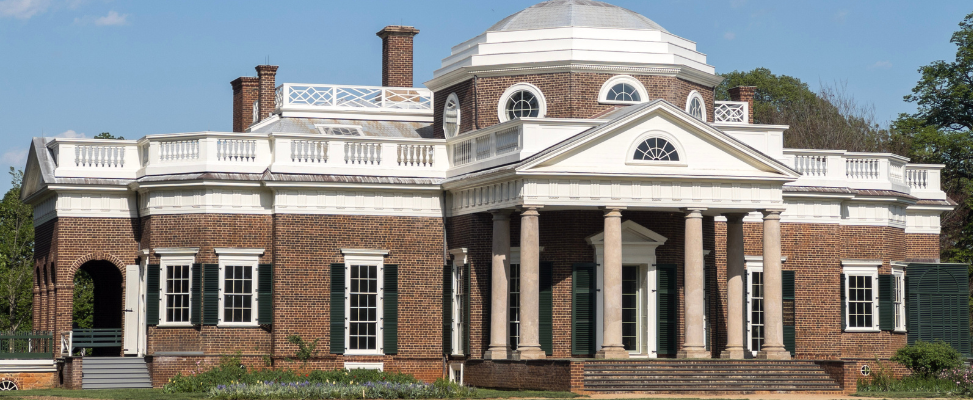 Anyone visiting Charlottesville should not miss:
Monticello, the beautiful plantation and estate of Thomas Jefferson. A tour of Monticello reveals the remarkable life of Jefferson as a scholar, inventor, and founding father, while also offering a unique insight into the lives of the enslaved people who worked there.
The George Washington National Forest, which showcases the natural beauty of Virginia.
The Monticello Wine Trail, where you can explore and enjoy wine tasting experiences.
The impeccable grounds of Monticello are absolutely stunning, boasting a diverse selection of trees and flora. Outdoor enthusiasts will find Charlottesville's hiking trails among the best in the region., such as the Saunders-Monticello Trail and the trails in Shenandoah National Park. After your visit to Monticello, you can head to Charlottesville's Downtown Mall for shopping and dining.
Experience the Historic Downtown Mall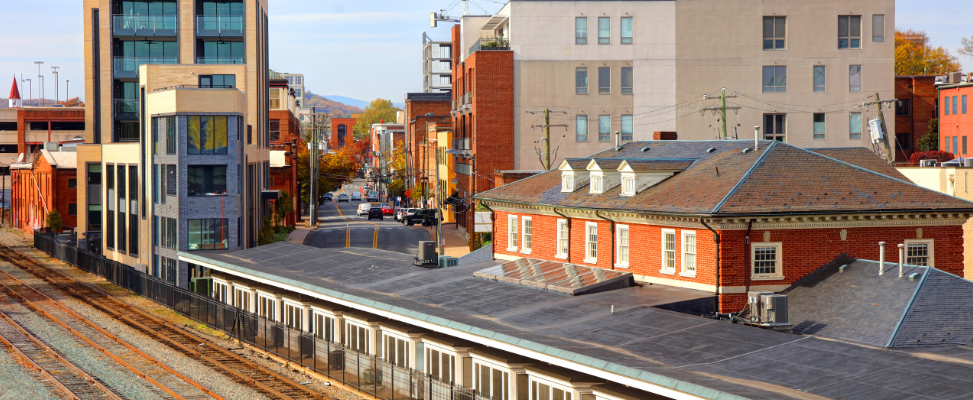 The Downtown Mall, also known as Charlottesville's Downtown Mall, is located right in the center of Charlottesville. It is one of the longest pedestrian malls in the United States with over 120 shops and 30 restaurants. This inviting pedestrian area offers a European feel with its lush tree-lined center aisle, open-air cafes, and charming local boutiques and restaurants. Whether you're searching for unique gifts, dining at international restaurants, or simply enjoying a leisurely stroll, the Downtown Mall has something for everyone.
The Historic Downtown Mall offers a variety of experiences, including:
Savoring locally roasted coffee at a charming cafe
Shopping for goods crafted by Virginia-based artists and artisans
Enjoying a meal at one of the area's international restaurants
Attending the Fridays After 5 concert series on Friday evenings
Exploring the vibrant "City Market" farmers' market on Saturday mornings
Delight in the Scenic Beauty of Shenandoah National Park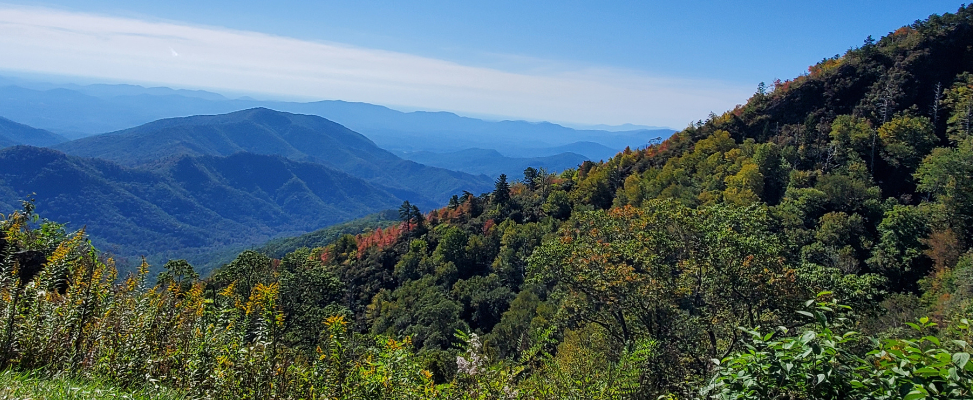 Shenandoah National Park is an outdoor enthusiast's dream, with shenandoah national park taking you on a journey through:
500 miles of awe-inspiring hiking trails
magnificent cascading waterfalls
towering peaks
breathtaking lookout points
One of the most popular hiking trails is Old Rag Mountain, providing an exhilarating and rewarding challenge for hikers. The park's natural beauty shines year-round, making it home to some of the best hiking trails. The fall season offers a particularly stunning display of vibrant foliage.
For outdoor activities within Charlottesville, consider exploring the Saunders-Monticello Trail, which starts in Kemper Park and offers mesmerizing views of lush hardwood forests, picturesque valleys, and the stunning Blue Ridge Mountains. After a day of hiking, reward yourself with a visit to Carter Mountain Orchard to savor their famous apple cider donuts and breathtaking views of Charlottesville and the Blue Ridge Mountains.
Tour the University of Virginia Campus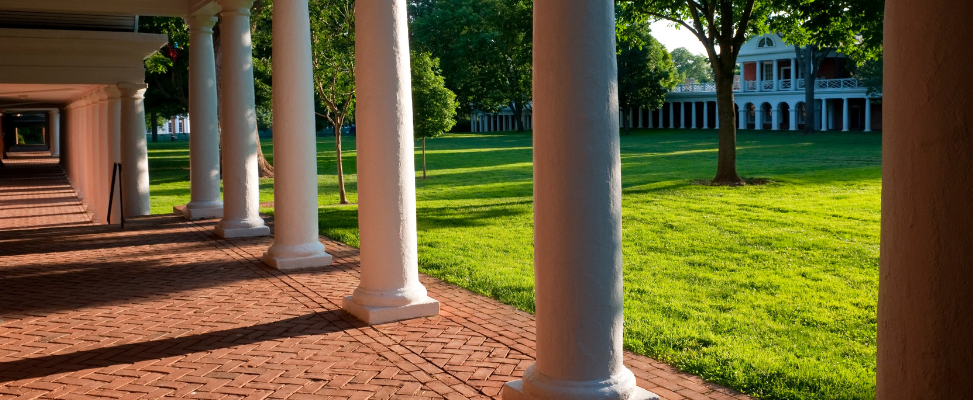 The University of Virginia, founded by Thomas Jefferson in 1819, is a remarkable UNESCO World Heritage Site and the pioneering American university to be registered as such. Jefferson designed the campus as an 'academical village,' where both educators and students would live on-site, fostering collaboration and engagement. The campus features beautiful architecture, gardens, and historic structures, making it a must-visit destination.
A tour of the university's campus includes the Lawn, a central open space surrounded by pavilion-style apartments and dormitories, connected by elegant pillared porticoes, and featuring the majestic Rotunda at one end.
Beyond exploring the campus, the University Guide Service's daily historical tours offer insights into the university's history with slavery. Don't forget to visit the Memorial to Enslaved Laborers, a tribute to the people who built the university and a reflective space that celebrates their courage and strength in the face of many injustices.
Savor Charlottesville's Culinary Scene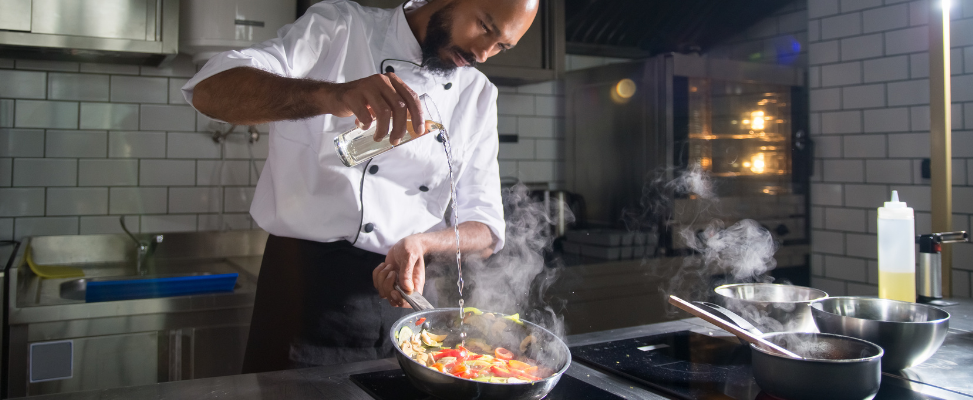 Charlottesville's culinary scene is incredibly diverse and vibrant, offering something for every palate. From farm-to-table restaurants and food trucks to popular local spots like Bodo's Bagels and MarieBette Café and Bakery, you'll never run out of delicious options. Head to the Charlottesville City Market for farm-fresh produce and artisanal goods, or try some innovative food trucks by following their social media pages or visiting C'ville farmers' markets.
The Dairy Market is a must-visit for a unique dining experience, a market hall that opened in 2020, featuring a variety of culinary delights. Enjoy cocktails at The Milkman's Bar, local craft beer at Starr Hill Brewing, and indulge in the diverse food options available. The Dairy Market also offers stylish clothes, home goods, and fun pop-up events and live music, making it the perfect place to spend an afternoon or evening in Charlottesville.
Explore the Monticello Wine Trail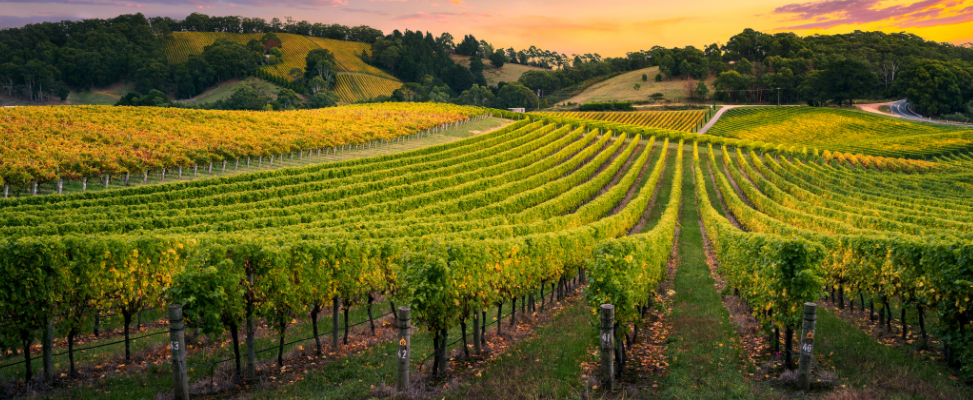 Virginia's winemaking heritage is proudly showcased along the Monticello Wine Trail, featuring over 40 wineries offering tastings, tours, and stunning vineyard views. The trail is a testament to Thomas Jefferson's passion for grape growing and winemaking, as well as the rich history of Virginia wine. Wineries along the trail include:
Burnley Vineyards
Flying Fox Vineyard
Cunningham Creek Winery
Knight's Gambit Vineyard
King Family Vineyards
Keswick Vineyards
Kilaurwen Winery
As you explore the Monticello Wine Trail, you'll discover delightful pop-up events, live musical performances, and locally-sourced cheese boards to accompany your wine tastings. For added convenience, consider booking a Monticello Wine Tour to explore the trail and make the most of your wine tasting adventure.
Immerse Yourself in Art and Culture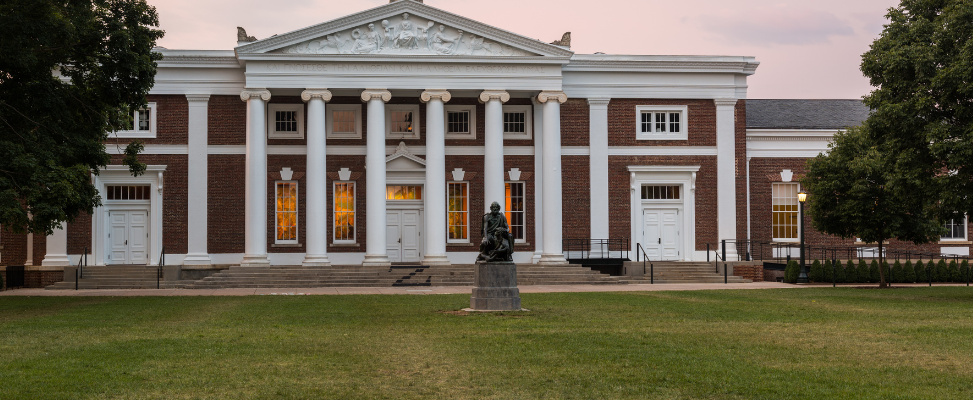 Charlottesville's diverse offerings are sure to captivate art and culture enthusiasts. The Fralin Museum of Art at UVA is an incredible museum. It showcases 14,000 fascinating objects such as beautiful paintings, stunning photography and art from African, Asian, Pre-Columbian and Native American cultures. For a unique cultural experience, visit the Kluge-Ruhe Aboriginal Art Collection, displaying an exciting variety of Indigenous Australian objects, including bark and acrylic paintings, photography, prints, sculpture, and artifacts.
For a more interactive experience, explore the IX Art Park, a vibrant community gathering space designed to foster and nurture creativity. This repurposed ex-industrial area has been converted into an exciting venue for art installations, live performances, and community events, making it a must-visit destination for art lovers.
Enjoy Outdoor Activities and Adventures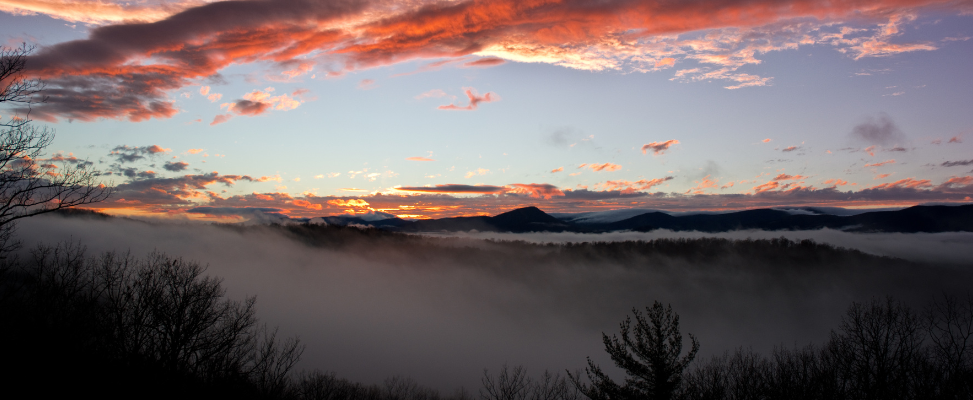 Nature lovers will find an abundance of outdoor activities and adventures in Charlottesville. In addition to the beautiful parks and hiking trails in the area, you can experience fly fishing with Middle River Outfitters for an unforgettable adventure. Walnut Creek Park is another fantastic destination, offering a variety of activities such as swimming, hiking, biking, boating, kayaking, fishing, and disc golf.
For a relaxing day at the park, pack a picnic lunch and enjoy the beach and other activities at Walnut Creek Park. Whether you prefer leisurely walks or more challenging hikes, Charlottesville's surrounding natural beauty provides the perfect backdrop for outdoor enthusiasts.
Experience Virginia Cider at Local Cideries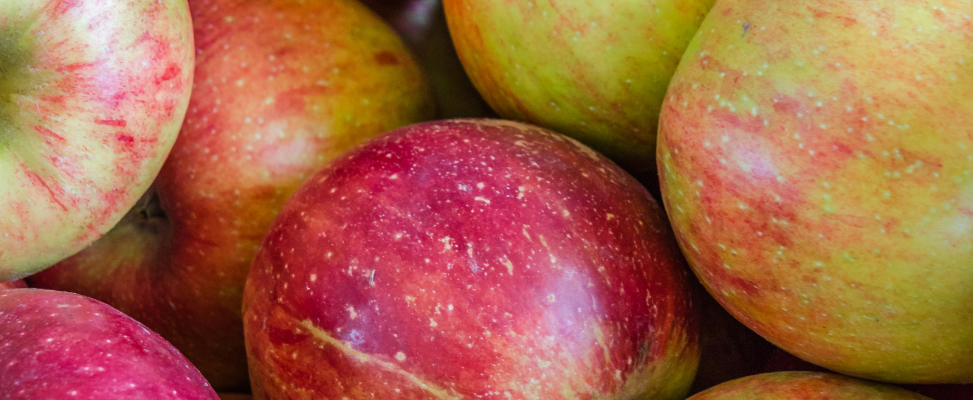 Virginia cider has gained popularity in recent years, and Charlottesville is home to some fantastic local cideries. Bold Rock Cidery & Tap Room and Castle Hill Cider are both incredible places to visit, offering delicious tastings and the opportunity to learn about the cider production process. Bold Rock uses delicious, locally-sourced apples grown by passionate family farmers in the beautiful Blue Ridge Mountains and North Carolina to create their ciders.
Relish the refreshing cider and breathtaking views of the Blue Ridge Mountains at Bold Rock. With delicious seasonal flavors and a variety of ciders to choose from, you'll find the perfect cider to suit your taste buds while enjoying the scenic surroundings.
Take a Day Trip to Luray Caverns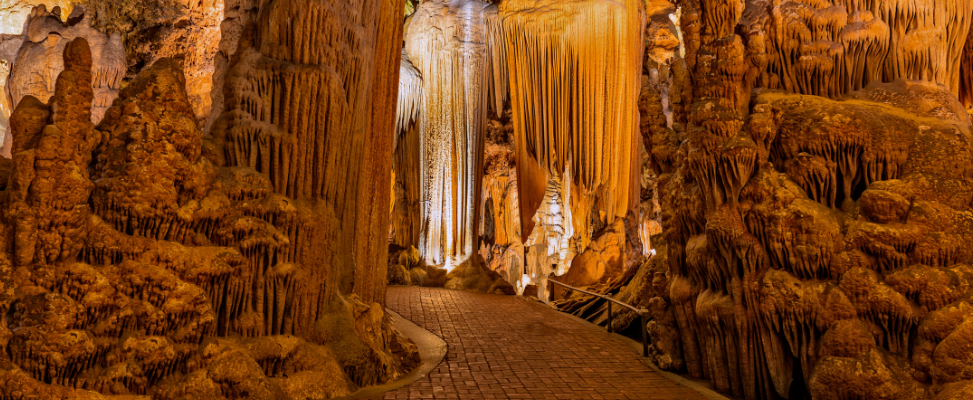 Just a short drive from Charlottesville, Luray Caverns offers an unforgettable day trip experience. As the largest series of caverns in eastern US, Luray Caverns boasts stunning formations, such as tremendous stone columns, shimmering draperies, and crystal-clear pools. During your visit, don't miss the world's largest musical instrument, the Great Stalacpipe Organ, an incredible sight to behold.
Apart from the caverns themselves, Luray Caverns also features a variety of attractions, including:
The Car & Carriage Caravan Museum
Shenandoah Heritage Village
Toy Town Junction
The Garden Maze
Given its numerous attractions, a day trip to Luray Caverns promises an unmissable adventure.
Relax in Charlottesville's Beautiful Parks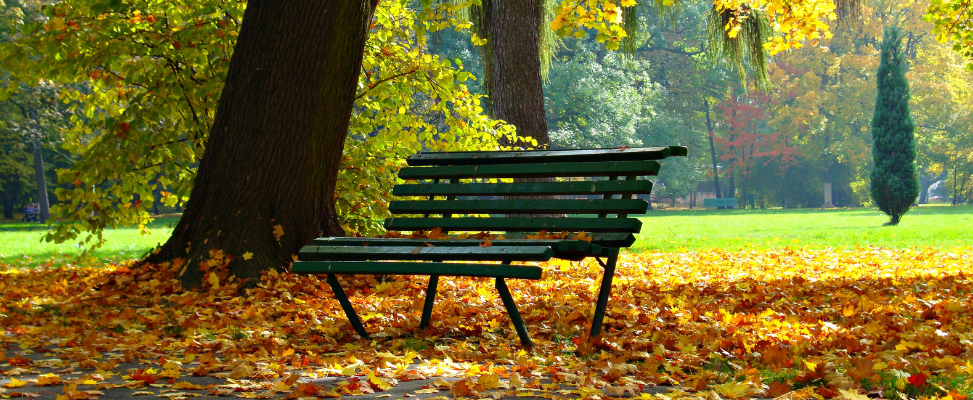 Charlottesville's beautiful parks provide the perfect setting for relaxation and outdoor activities. McIntire Park, Greenbrier Park, and Kemper Park each offer their own unique charm and serene settings for picnics, leisurely walks, and outdoor adventures. Greenbrier Park is especially captivating during the spring and fall. Numerous bird species come back to their natural habitats during these seasons..
Kemper Park offers the following features:
A stunning Carter Overlook that overlooks Charlottesville and the Blue Ridge Mountains
An Arboretum dedicated to Albemarle County's native flora
Palmer Woodland Theater, an outdoor classroom surrounded by centuries-old white oak trees
With numerous parks at your disposal, finding the perfect spot to relax and bask in Charlottesville's natural beauty is guaranteed.
Visit Historic Presidential Estates
In addition to Thomas Jefferson's Monticello, Charlottesville is also home to other historic presidential estates. James Monroe's Highland, the beloved former home of the US's fifth president, offers visitors the opportunity to explore a building believed to have once been his home and learn about Monroe's life in public service. James Madison's Montpelier, the home of America's fourth President, has been honored with the UNESCO World Heritage Site designation due to its immense cultural and historical importance.
At both estates, you can delve into the lives and legacies of these influential leaders through guided tours and interactive exhibits. To gain a deeper insight into American history and the nation's founding, a visit to these presidential estates is integral to your Charlottesville experience.
Indulge in Unique Shopping Experiences
If you're in the mood for some retail therapy, downtown Charlottesville has plenty to offer. The Downtown Mall, Dairy Market, and local boutiques cater to a variety of tastes, from clothing and accessories to artisanal goods and souvenirs. Wander through the Downtown Mall's charming streets and discover a diverse array of shops and eateries, perfect for finding unique gifts and keepsakes.
For a more modern shopping experience, visit the Dairy Market, offering stylish clothes, home goods, and more. The multitude of shopping options ensure you'll find the perfect mementos of your Charlottesville visit.
Attend Live Performances and Events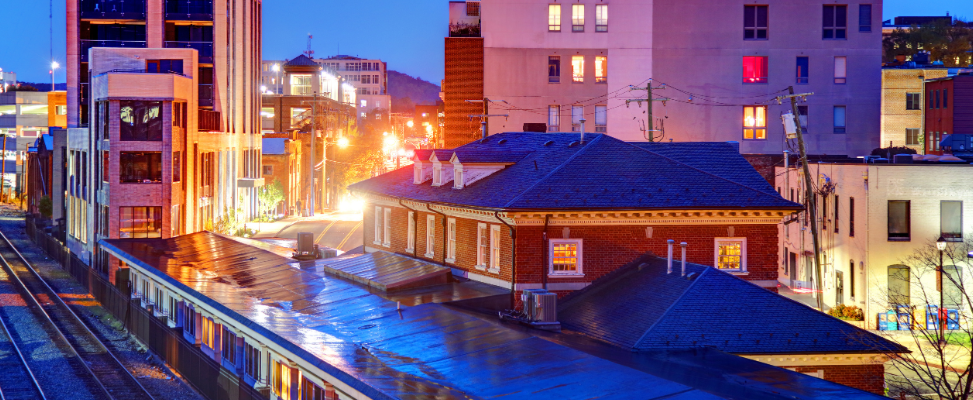 Charlottesville's live performance scene is thriving, with a variety of venues showcasing local and national talent. The Paramount Theater, the Jefferson Theater, and the Charlottesville Pavilion all offer live performances, ensuring an unforgettable night out on the town. From concerts and live events at the John Paul Jones Arena to live music at bars like The Whiskey Jar, The Southern Cafe and Music Hall, and Miller's Downtown, there's always something exciting happening in Charlottesville.
Charlottesville's live performance scene caters to all musical tastes and preferences, ensuring every event-goer finds something to their liking. Some popular venues to check out include:
The Jefferson Theater
The Southern Cafe and Music Hall
The Paramount Theater
The Sprint Pavilion
Be sure to check out local event calendars during your visit to catch the latest shows and events.
Participate in Interactive Learning Experiences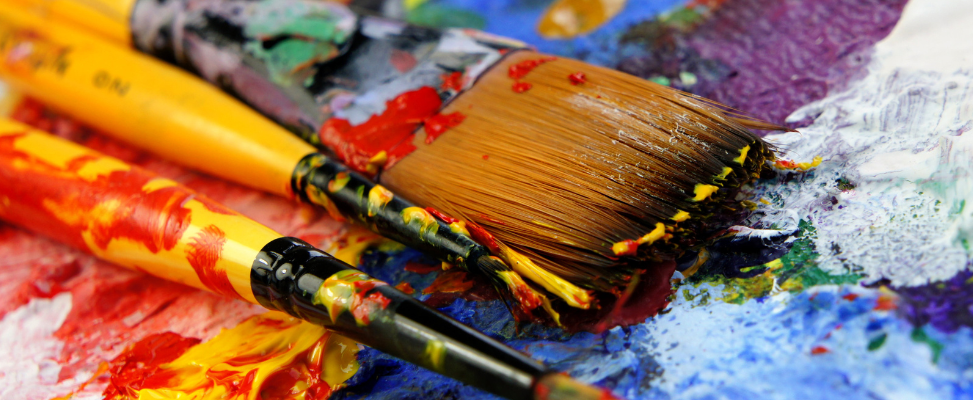 For families and curious minds, Charlottesville offers a variety of interactive learning experiences. The Virginia Discovery Museum is a vibrant, non-profit children's museum full of exciting learning opportunities for kids ages 1 to 8. At the Glass Palette, an interactive glass art studio, visitors can create their own unique glass art pieces, perfect for all ages.
Explore the Lewis & Clark Exploratory Center, an inspiring museum that encourages exploration, creativity, and discovery. The myriad of educational and interactive experiences in Charlottesville ensure you'll always have fun things to do.
Savor Craft Beer and Cocktails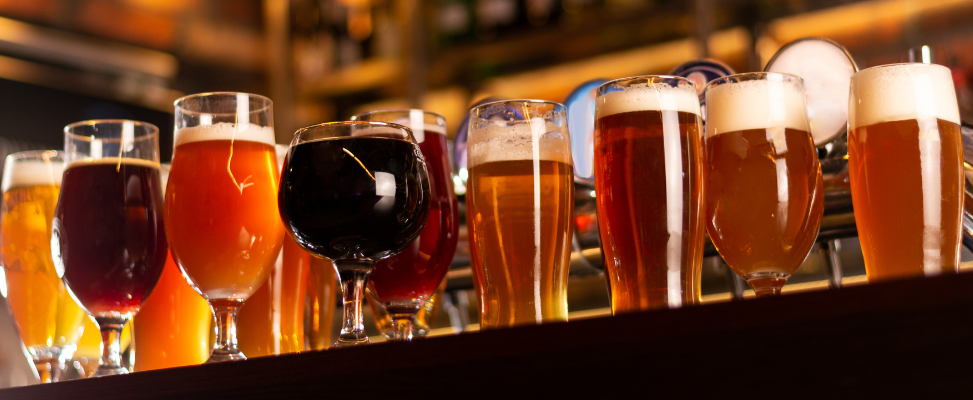 Charlottesville's craft beer and cocktail scene is thriving, with local breweries, distilleries, and bars offering unique and delicious drinks. Visit Three Notch'd Brewing, Champion Brewing Company, and the Quirk Hotel's Rooftop Terrace for a taste of local beer and handcrafted cocktails. From bold IPAs to refreshing ciders, there's a beverage to suit every taste.
As you sip on your favorite craft brew or cocktail, take in the lively atmosphere and enjoy the company of fellow beer and cocktail enthusiasts. The numerous local establishments make it easy to understand why Charlottesville is emerging as a hotspot for craft beer and cocktail connoisseurs.
Go Horseback Riding Through Scenic Trails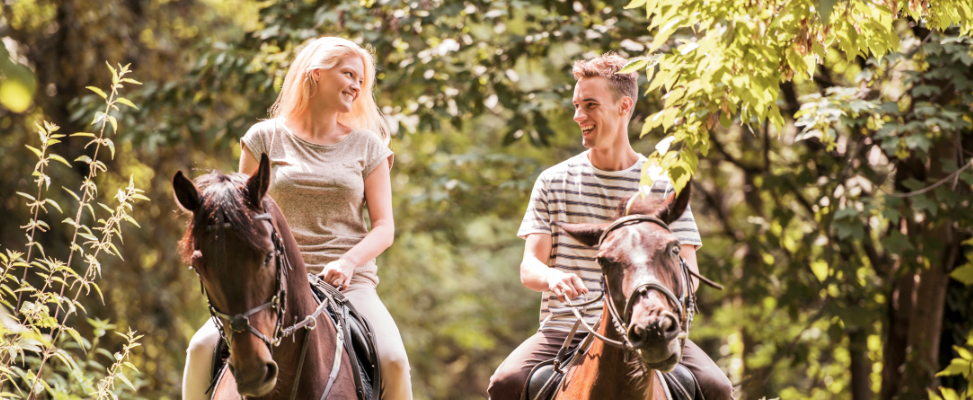 For a unique outdoor adventure, go horseback riding through scenic trails with Indian Summer Guide Service. Offering customized trail rides through vineyards, wineries, and the beautiful Blue Ridge Mountains, this unforgettable experience is perfect for both novice and experienced riders.
As you saddle up and embark on your equestrian adventure, take in the stunning views and appreciate the natural beauty of central Virginia. Be it a leisurely ride through picturesque vineyards or a challenging trek along mountain trails, horseback riding with Indian Summer Guide Service promises an unforgettable experience.
Visit Charming Small Towns Nearby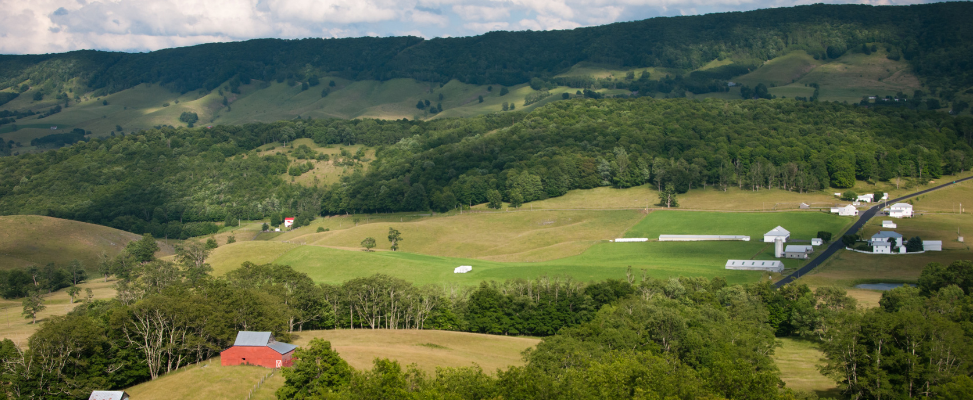 While Charlottesville has plenty to offer, don't miss the opportunity to visit charming small towns nearby, such as Crozet, Orange, and Staunton. Each town boasts unique attractions, dining, and shopping experiences, providing a perfect day trip or weekend getaway destination. From exploring historic sites and museums to indulging in delicious local cuisine, there's something for everyone in these quaint towns.
Whether you desire a tranquil retreat from the city's hustle and bustle or wish to uncover Virginia's countryside gems, these small towns will undoubtedly charm and delight you. Take the time to explore their unique offerings and immerse yourself in the warmth and hospitality of Virginia's small-town charm.
Stay in Luxurious Accommodations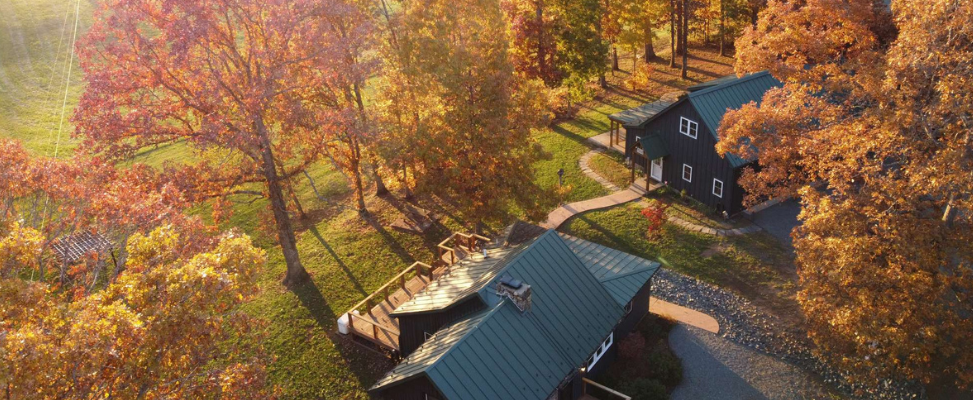 After a day of exploring Charlottesville and its surrounding areas, unwind in luxurious accommodations like Stay Charlottesville. Each of these properties offers top-notch amenities, fine dining, and stunning views of the surrounding landscape. From the elegant ambiance of Keswick Hall to the hip and inviting atmosphere of The Draftsman Hotel, these accommodations provide the perfect setting for a relaxing and rejuvenating stay.
There is so much to explore and experience in Charlottesville VA and its surroundings that your days will be effortlessly filled with adventure and memory-making. At the end of each day, return to your luxurious accommodations to rest and recharge, ready for the next day's adventures.
Visit Charlottesville Today
From exploring historical sites and immersing yourself in art and culture to savoring delicious cuisine and embarking on outdoor adventures, Charlottesville offers a wealth of experiences to suit every traveler. With its charming small-town atmosphere, stunning natural beauty, and rich history, it's no wonder Charlottesville is a popular destination for both tourists and locals alike. Plan your visit today and discover the many amazing things this vibrant city has to offer.
Frequently Asked Questions
How do you spend a day in Charlottesville VA?
Experience a vibrant downtown area, explore the Children's Museum, check out the Ting Pavilion for live music, enjoy the outdoors at Rivanna Roots and the Rivanna River Company, take a scenic drive on Skyline Drive and Blue Ridge Parkway – all these make a day in Charlottesville VA memorable!
Is Charlottesville VA worth visiting?
Charlottesville, Virginia offers a plethora of unique attractions including delicious restaurants, stunning outdoor scenery, and historic sites. It is definitely worth a visit!
What's Charlottesville known for?
Charlottesville is renowned for its historic sites, beautiful parks and waterways, family-friendly activities, vibrant arts and culture, excellent shopping opportunities, guided tours, and accessible experiences for all visitors.
Is Charlottesville a foodie town?
Charlottesville is definitely a great foodie town, with plenty of popular restaurants for outdoor dining. There's a vibrant and relaxed atmosphere, making it a fantastic place to enjoy delicious food.
What are some popular outdoor activities in Charlottesville?
Explore the great outdoors and enjoy a variety of activities like hiking, biking, fishing, and bird watching in Charlottesville.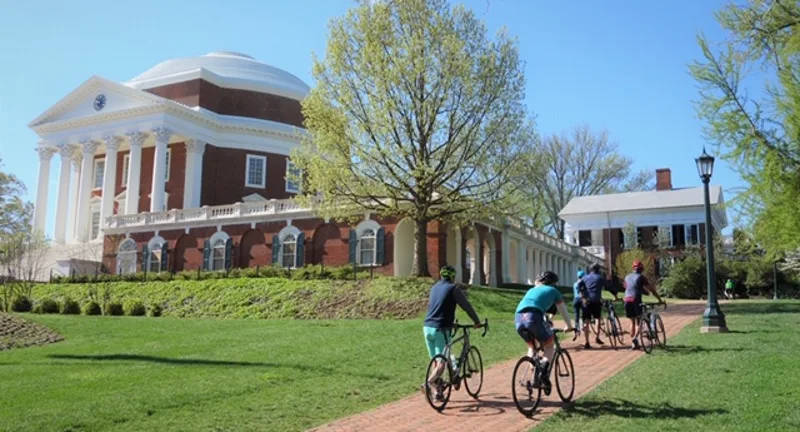 BLUE RIDGE BICYCLE TOURS
Blue Ridge Bicycle Tours offers tours of the historic city of Charlottesville and the University of Virginia. They can also create a custom tour for areas in which you've always wanted to visit. Group events, such at team building or corporate outings, are available, as well.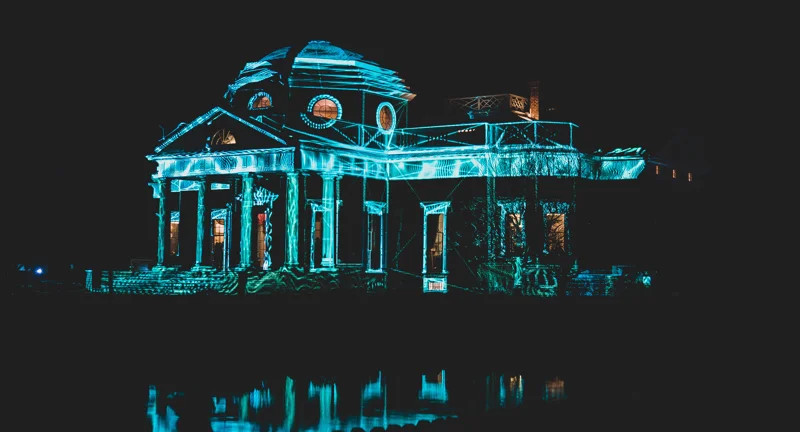 LIGHTS, LIBERTY, AND THE PURSUIT OF HAPPINESS: MONTICELLO FALL ARTS SERIES
Explore the mountaintop through dynamic color, light, and sound. Enjoy lights, live music, and family-friendly activities. Food as well as beer, wine, and non-alcoholic beverages will be available for purchase.
All tickets sold for Saturdays October 2, 9, 16, and 23 include admission to the Lights, Liberty, and the Pursuit of Happiness program that evening.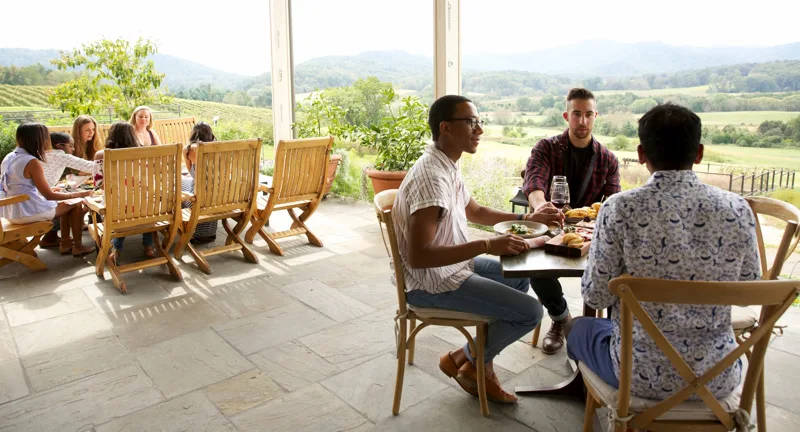 PRIVATE WINE AND BEER TOURS
Our average tours last a minimum of 5 hours, which allows time for stops at 3-4 different wineries and/or breweries depending on group size, but we are always more than happy to accommodate your travel schedule. Each itinerary is fully customized based on your requests. Simply choose the vehicle that best fits your group size below. When you reserve online, you're reserving a vehicle for a 5 hour wine tour with the ability to choose additional hours.